Bulk emailing is the process of sending large amounts of email to recipients for example with our software, MaxBulk Mailer. It is usually used by businesses and organizations as a marketing tool to promote their products or services. However, it can also be used for other purposes such as sending out newsletters, announcements, or event invitations.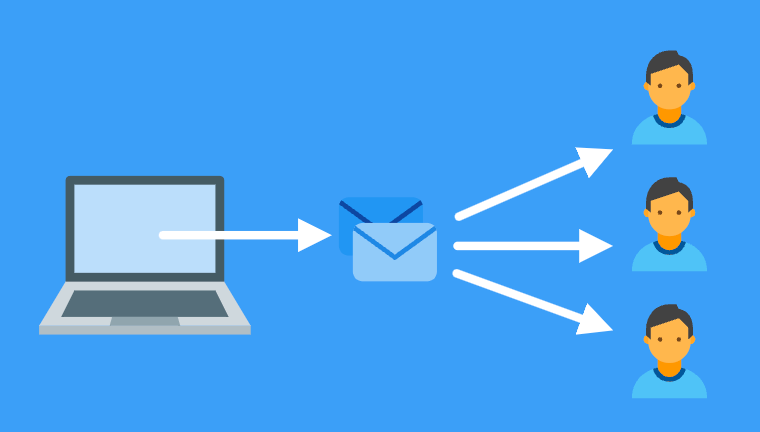 What is bulk email?
Bulk email is a term used to describe the process of sending emails to a large number of recipients. It can be used for a variety of purposes, such as marketing or announcements.
There are a few things to keep in mind when sending bulk emails, such as making sure your content is relevant and interesting to your audience and ensuring that your email list is up-to-date. Additionally, it's important to monitor your results so you can adjust your strategy as needed.
How to send bulk email
There are a number of ways to send bulk email, but the most important thing is to make sure that your email list is permission-based. That means each person on your list has given you explicit permission to contact them via email.
If you have a large list of contacts that you want to email all at once, the best way to do it is to use an email marketing software like MaxBulk Mailer. MaxBulk Mailer allows you to upload your entire contact list and then send out mass emails to all of them at once.
The most important thing to remember when sending bulk emails is to make sure that your recipients have given you permission to contact them. If you don't have permission, your emails will likely be marked as spam and you could end up getting into trouble with your ISP.
What are the benefits?
Bulk email can be a great way to stay in touch with a large number of people at once. It can also be a great way to save time and money on your marketing efforts. Here are some of the benefits:
1. You can reach a large number of people with one email.
2. It is often cheaper than other forms of marketing.
3. You can track the results of your email campaigns to see how many people opened and clicked on the links in your email. This information can help you improve your future campaigns.
4. It allows you to personalize your messages to each recipient. This can help improve the response rate to your emails.
5. You can schedule your email campaigns in advance, so you can focus on other tasks while your emails are sent out automatically.
What are the disadvantages?
Bulk email can be a great way to reach a large audience quickly and efficiently. However, there are some disadvantages to using this method of communication that you should be aware of before you send your next mass email.
One of the biggest disadvantages is the potential to be marked as spam. If your email ends up in someone's spam folder, it's likely that they'll never see it or even know that it exists. This can obviously be very frustrating, especially if you've put a lot of time and effort into crafting your message.
Another downside to bulk email is that it can sometimes come across as impersonal. If you're not careful, your recipients may feel like they're just another name on a list. This can lead to them feeling unimportant and unvalued, which is obviously not the reaction you're going for.
Finally, bulk email can be a bit of a gamble. You never really know how many people are going to actually receive and read your message. Even if you have a large mailing list, there's no guarantee that everyone on it will see your email. In fact, research shows that the average open rate for mass emails is around 20%.
How to make sure your bulk email is successful
No matter what business you are in, the success of your marketing campaigns can make or break your company. This is especially true when it comes to bulk email. With the high volume of emails being sent every day, it can be difficult to stand out from the crowd. However, there are some things you can do to make sure your bulk email is successful.
First, you need to have a strong subject line. This is the first thing that people will see when they receive your email, so it needs to be eye-catching and interesting. Otherwise, they may simply delete your email without even reading it.
Second, you need to have good content. Your email should be well-written and informative, providing value to the reader. If your email is simply a sales pitch, people will likely be tuned out and not bother reading it.
Third, you need to make sure your email is properly formatted. No one wants to read an email that is full of typos or is difficult to navigate. Take the time to proofread your email and format it in a way that is easy to read.
Finally, you need to track your results. Keep an eye on how many people open and click-through your email. This will give you an idea of what is working and what isn't. By tracking your results, you can make necessary adjustments to ensure that your bulk email is successful.
Conclusion
Bulk email is a great way to stay in touch with your customers and keep them updated on your latest products and services. However, it's important to use bulk email responsibly and make sure that your messages are targeted and relevant to your audience. Otherwise, you run the risk of spamming people and damaging your reputation.
This is a small video tutorial about bulk email: