I hosted a 1-hour MaxBulk Mailer Q&A webinar a few months ago.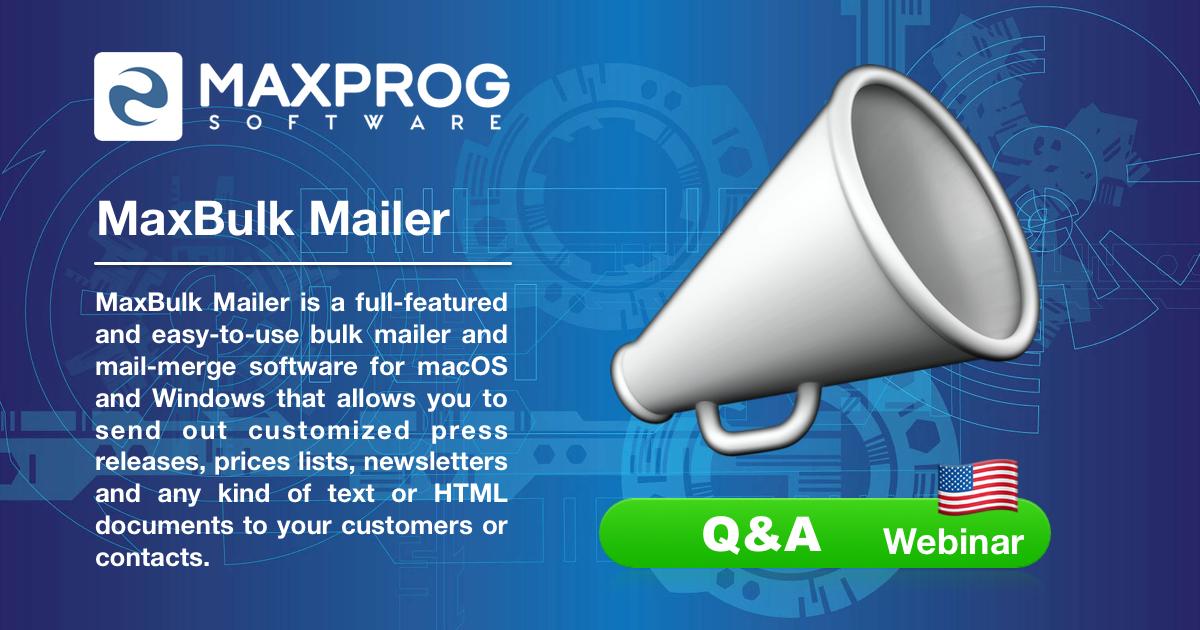 As a result our support page now has a new link labeled Live Events.
Click on that link to visit the Maxprog's Live Sessions page.
We can send you a notification when new events are scheduled, just click on Subscribe.
In addition, you can also see a list of Upcoming Events (if any) and Past Events. You can register for any upcoming event and you can replay any past event as well.
For instance, you can see the list of answered questions and watch the replay of each answer.
You will see below the list of the most voted questions that were answered. Please register for any of the events, it is free!
Not getting caught by SPAM filters
Can you share a list of best practices to not get caught in SPAM filters? Specifically, how do we avoid getting our emails identified as "Sent from a list."
List Batch processing
Is there a way to import a list into an extant MaxBulk list that causes MaxBulk to then remove those imported e-addresses/records from that pre-existing list? If not, this would be a very helpful function.
Picture and text side by side
How can I load an image, with a URL link, and have the email text wrap around the image? I find this very difficult not being an HTML expert – not even a novice!
Adding pictures to the subject line
I would like to know how to add images/icons to the subject line.
Sending a PDF attachment to a big list
My list contains 650 recipients. I send daily messages with a single line of text and an attached PDF. It can take more than an hour to send to 650. This seems very slow to me; can you explain which settings will give the fastest delivery? I also experience a ton of the spinning blue ball and "not responding" messages during the send. How can I reduce or eliminate these delays?
Webinar in french
Webinar in French will be very welcome.
Getting started with an old list
I would like to know the best way to start a new mail when one has many old addresses. For example..1- Check the addresses with your check program, then 2-assemble them in a new list and add new checked emails. Also the best way for the Subject line and other options to help avoid Spam. Also setting up successfully MLM. Can we record the stream as that time is very very early in Oz. 🙂 Thanks. I will watch it all and hopefully learn some tricks…
Mail subject personalization
How do I add the personalized name of the email recipient to the subject line? It does not work like in the body of the email.
Can you explain what is MLM
What does MLM actually do for you?
What is the DKIM checkbox for?
Hello, what does it mean the checkbox "DKIM" in "Settings"?
MaxBulk Mailer Q&A webinar summary
In conclusion, it has been a very productive webinar, I spent a good while and I hope I helped.
See you in the next webinar, remember, they are available in English, French, and Spanish.
I regularly host live events like this Q&A webinar. Don't wait! Register for any upcoming event now! Click on 'Ask a Question'. Leave all your questions or upvote any existing ones! I will respond to the most voted questions during the conference. Watch past events and see what others already asked!